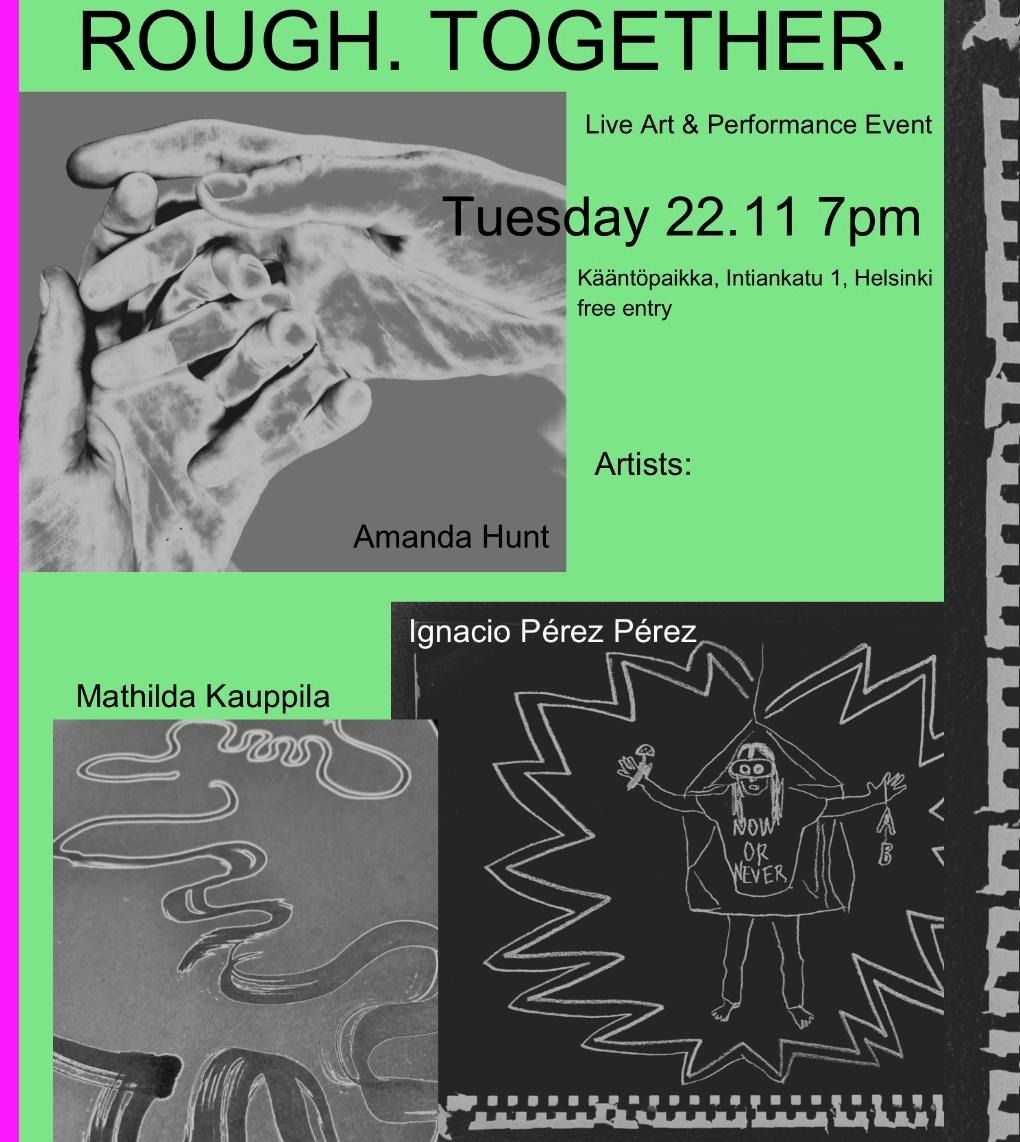 Rough. Together.
Mean Time Between Failures duet X Temporary Artists Collective
Rough. Together. On eri taiteenaloja yhdistelevä elävän taiteen tapahtuma, jonka kuratoinnista ja järjestämisestä vastaa Mean Time Between Failures -kaksikko, jonka muodostavat taitelija-organisaattori Dash Che sekä taitelija Suvi Tuominen. Tapahtumaan osallistuvat taitelijat ovat Ignacio Pérez Pérez, Amanda Hunt, ja Mathilda Kauppila.
Taiteilijat työskentelevät yhdessä kahden päivän ajan ja esittävät yhteistyönsä tuloksen yleisölle tiistaina 22.11 (tila avoinna klo 17 alkaen, tapahtuma alkaa klo 19). Tilaisuus on on maksuton ja avoin kaikille, tervetuloa!
Rough. Together.
Mean Time Between Failures duet X Temporary Artists Collective
Rough. Together. is a multidisciplinary live art event curated and facilitated by Mean Time Between Failures duet, consisting of artist-organizer Dash Che and artist Suvi Tuominen. The participating artists are Ignacio Pérez Pérez, Amanda Hunt, and Mathilda Kauppila. 
Event Description:
Three artists that form the Temporary Artists Collective, which will exist and work together for two full days before showing their collective work, are asked to explore their artmaking relationship to the world's ongoing failures, brutality, ambivalences, and imperfections. The artists are invited to stay with the thought that art does something else than activism, it cannot fix the world in this sense  – the world remains broken. Still, within this breakage art changes the world as we meet each other to play, grieve, get angry, love, and also make art. Thus, the Collective is asked to "wade into the swamp, get intimate with discomfort, and develop an appetite for nuance" in this project (from "The Art of Cruelty: The Reckoning" by Maggie Nelson, 2011).
While there is a definite value in taking refuge in softness and safety in the time of the disastrous collapse of our surroundings, we would like to take a detour from these qualities as the focal points of collaborative artmaking. We ask, how can the group of artists that temporarily came together meet each other's both soft and rough edges by bypassing social politeness, entering a new structure, and staying with an unknown outcome? Is appreciation of our differences, similarities, and complexities enough to make an ethical space for collaboration? Within this framing premise, the theme and content of the artistic work stay open and will develop through artistic collaboration.
With Artists
Ignacio Pérez Pérez
Amanda Hunt
Mathilda Kauppila
Temporary Artists Collective workshopping:
10am-18:30 on Saturday, Nov 19th
10am-17:30 on Sunday, Nov 20th
Rough. Together. event:
Space open for you at 17:00
The event starts at 19:00
Space closes at 22:00
No entry fee, everyone is welcome to join!