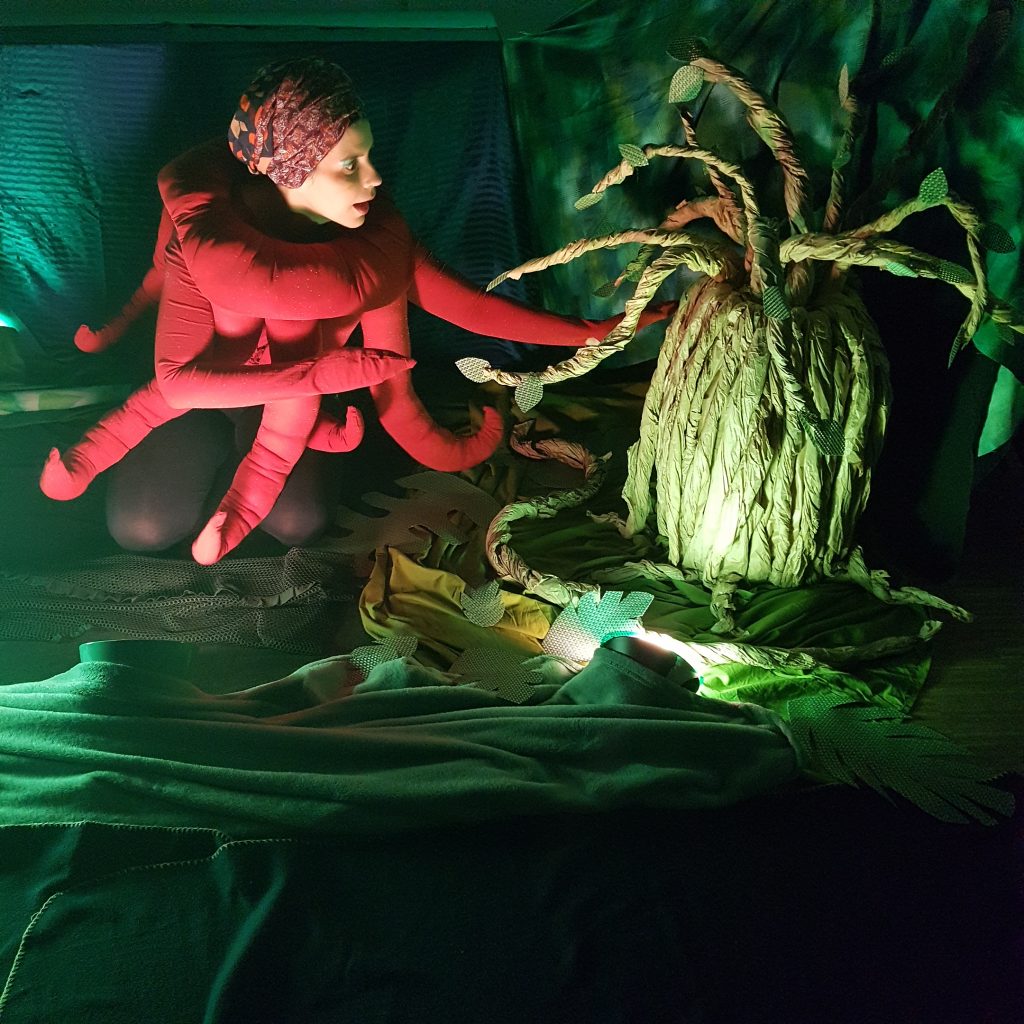 Tervetuloa Bokvillaniin lapsille suunnattuun osallistavaan teatteriesitykseen! Esityksestä vastaa Mandarina kollektiivi ja esityskieli on englanti. Ilmoita lapsesi etukäteen mukaan alla löytyvästä linkistä! Tapahtuma on ilmainen.
24.10. 13:00 at Bokvillan | Hämeentie 125, 00560, Helsinki.
The Rain Theatre is a multi-sensorial experience that aims to bring the science of cloud formation and rainmaking closer to young and family audiences.
This performance is adapted to welcome pairs of one child and one adult. We invite not only parents, but grandparents, older siblings, uncles, aunts and non-blood-related families… to join children in this journey that combines participatory science experimentation, storytelling in English and visual and sound arts. During the performance, we ask children and adults to engage, empathise and help to restore the unbalance created by humans in the Amazon and bring the rain back.
Water, coming from the abundant rains, is the blood that flows in the Amazon. Human action, ubiquitous nowadays not only alters essential natural mechanisms like the water cycle but also causes biodiversity loss, displaces indigenous communities, threatening knowledge and symbiotic ways of living with Nature. Combining storytelling with all our senses will translate into a universal language, as we aim to create awareness about one of the most important phenomena that take place in the Amazon, and elsewhere: Rain.
When: 24.10.2021 at 13:00. Duration ~ 30 min
Where: Bokvillan | Hämeentie 125, 00560, Helsinki.
Language: English
Audience: Children aged 3-7 accompanied by an adult.
Registration: Participants must register in advance using this link.
Please, complete a registration for every child attending. Accompanying adults do not need to register.
Free entry with registration.
About the Artists:
MANDARINA Collective
Mandarina Collective became real in 2020 when Helsinki-based Ana Álvarez Piedehierro (ES), Ina Fiebig (DE) and Ines Montalvao (PT), were selected to perform in a multilingual Children's Festival.
The collective is passionate about different but also common fields and, in their work together, they combine their knowledge of Science, Illustration and Experience Design with our passion for communication and a cross-disciplinary approach.
Instagram @mandarina.collective